Darwin Jumping Crocodiles
Darwin Jumping Crocodiles
The famous Darwin Jumping Crocodiles are actually in the Adelaide River, about 70 klm down the Arnehm Highway to the mining town of Jabiru and Kakadu National Park.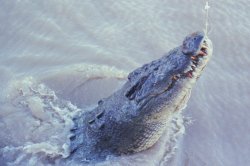 See more jumping crocodile pictures from Adelaide River.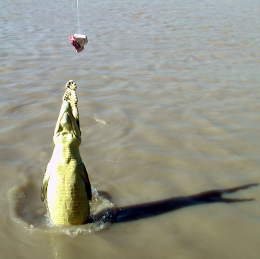 A small croc jumps for a steak
These cruises on the Adelaide River are the best way to see crocodiles in their natural habitat, even if their behaviour is modified a little by hand feeding from the tour boats.
More details on available crocodile viewing opportunities.
The cruises were started in 1985 by a couple of crocodile hunters made redundant by both a lack of crocs to hunt and changes in the conservation laws making it illegal anyway.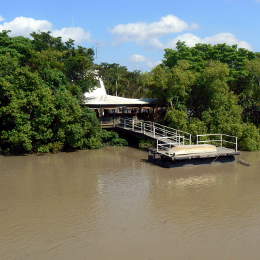 The jetty for the Adelaide River Queen jumping croc tour
Today the crocodile population has returned to something similar to pre-European numbers, however getting close to them in the wild can be both difficult and dangerous, except on this short stretch of the Adelaide River where they are used to the tour boats.
Some boats operate from jetty's next to the Arnhem Highway bridge over the Adelaide River where tourists are catered for. Car parks, a Coffee Shop and a Souvenir Shop which specializes in all sorts of crocodile products from local crocodile farms ar hidden behind the trees inthe photo.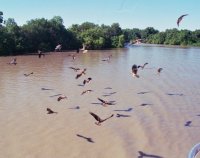 Black Kites over the river
Other similar cruises can be reached via the Windows on the Wetlands road or the Fogg Dam road.
Each tour is a unique experience, with Sea Eagles and Black Kites often putting on a show along with Magpie Geese, Brolgas, Kingfishers and other visiting bird species.
Tours are available leaving Darwin, travelling to the Adelaide River for the jumping crocodiles cruises, then on to spend the rest of the day at Litchfield Park.

If you drive yourself, places of interest on the route include Howard Springs Nature Park, the Window on the Wetlands Information Centre and Fogg Dam Nature Reserve.
Notice the long, thin snout on this croc? It's a freshie photographed on a tour of Nitmiluk Gorge. Crocodiles numbers have increased substantially and can be anywhere where there is water in the Top End, often quite long distances from the sea.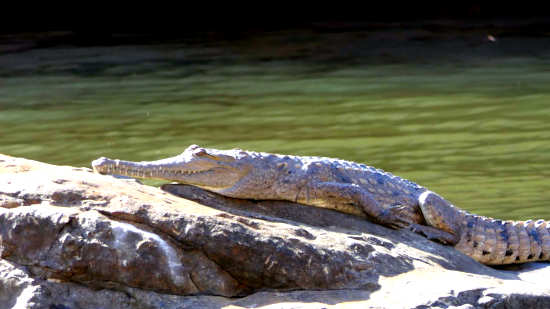 Freshwater Crocodile at Nitmiluk (Katherine) Gorge
---
Return from Darwin Jumping Crocodiles to Enjoy Darwin.
---