Traveling the Roads to Darwin
Check the roads to Darwin, including Broome to Katherine, Alice Springs to Katherine, Mt. Isa to Threeways Roadhouse and Katherine to Darwin.
There is only one road connecting Darwin with the rest of Australia.

The Stuart Highway links Darwin to Adelaide in South Australia, with a turn off to the west at Katherine and to the east at Threeways Roadshouse, just north of Tennant Creek.

Although there are some alternatives, such as traveling east through Borroloola and Normanton to Cairns, many of these roads to Darwin are little more than lines on the map.
If you plan to use secondary roads, check local conditions and distances between fuel stops carefully before you leave.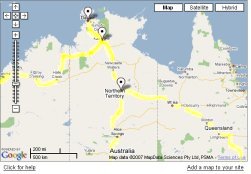 The roads to Darwin
There are three main roads into the Northern Territory and they all converge, with only one road on the last section between Darwin and Katherine.
Open a working map in a new page here.
 Darwin to Katherine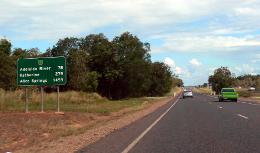 Road Sign reads Katherine 279K
Distance 300 kilometres
Drive Time 3 hours
Fuel stops; Darwin, Noonamah, Acacia, Adelaide River, ( Hayes Creek has closed), Emerald Springs, Pine Creek, Katherine.

This is a relatively busy stretch of good quality sealed road with all season bridges and is only cut by major weather events, the first 30k's are dual lane.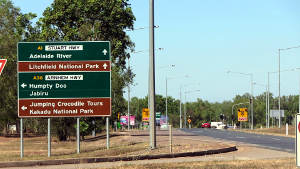 Stuart Highway and Arnhem Highway intersection.
An alternative is to travel the Arnhem Highway through Humpty Doo to Kakadu National Park, however it is about double the distance.
The roads from Darwin to Kakadu and from Kakadu to PineCreek are good sealed roads with fuel and amenities available in  Humpty Doo, Corroboree Park, Jabiru and Kakadu.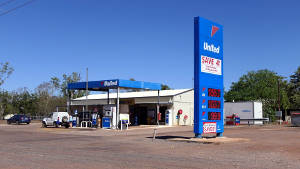 Acacia Service Station
The Acacia service station and caravan park is really the last post between Darwin and the bush.
Normally open from 7am to 8pm it also has self-serve 24hr credit card operated fuel
The caravan park has limited facilities, offering powered and unpowered sites. The park manager will call around after 5pm to collect charges.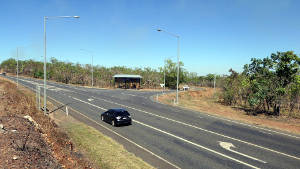 Litchfield Park via Batchelor road
The main road to Litchfield National Park via the township of Batchelor is hard to miss with a large billboard and good lighting.
The Park can also be accessed through Berry Springs during the dry season when the Finniss River crossing is open. There is about 30 k's of rough dirt road between Berry Springs and Wangi Falls, so access through Batchelor is the most popular road.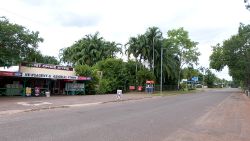 Adelaide River Central Business District
Adelaide River and Pine Creek are small towns with interesting histories connected to the early gold rush, the original railway and WW11.
Katherine has a population of about three thousand and is probably most famous for the boat tours on Nitmiluk Gorge.
At Katherine turn west for Timber Creek, Kunanurra, Broome and the rest of Western Australia.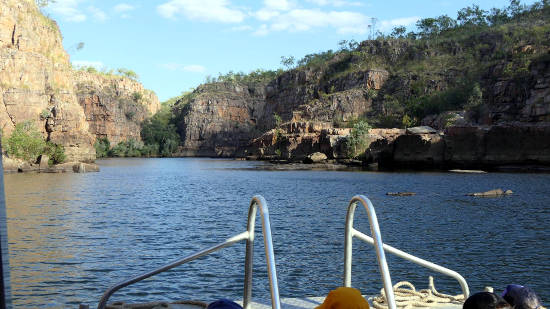 On a tour boat heading up Nitmiluk Gorge, Katherine
Katherine to Broome
Distance 1600 kilometres
Drive Time 17 hours
Fuel stops; Katherine, Victoria River, Timber Creek, Kunanurra, Halls Creek, Fitzroy Crossing, Derby, Broome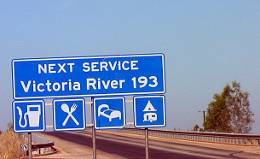 Road sign reads Victoria River 193k
This section traverses some very remote country with long stretches between fuel stops but is still good quality sealed road. It is more prone to flooding in the wet season, so check local conditions if you have any doubt.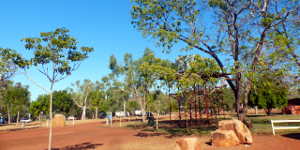 Camping and Caravans at Victoria River
Victoria River is a destination in it's own right for those wanting to explore the eastern section of the Gregory National Park.
The roadhouse and camping ground provide all the facilities you would expect in a remote location like this.
If time is not a problem, a short diversion to Lake Argyle before Kunanurra can be a rewarding experience.

Lake Argyle view from dam wall lookout.
Kunanurra is supported by the irrigation waters from Lake Argyle with a population of around 7-8000 or more in the tourist season.
It is the biggest town on the highway to Broome as Halls Creek  and Fitzroy Crossing both have populations of around 12-1500.
One of the alternative roads to Darwin is via the Gibb River beef road to cover the section from Broome to Whyndham.
 This is a fairly good quality unsealed road from Derby to Gibb River but very rough from Gibb to Whyndham. There is some spectacular scenery along this road from Derby to Kunanurra.
Broome shares many similarities with Darwin in it's history as a remote port, pearling centre and it's importance as a military base during WW11. It is famous for it's fishng and white beaches.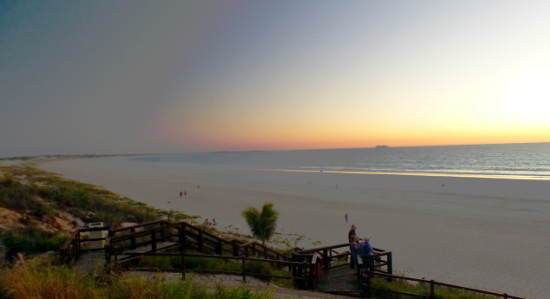 Sunset on Cable Beach
Katherine to Threeways Roadhouse
Distance 660 kilometres
Drive Time 7 hours
Fuel stops; Katherine, Mataranka, Dunmarra, Elliot, Renner Springs, Threeways
Traveling south from here takes you further into the sparsely populated desert areas of central Australia, with little more than fuel stops along the road.
Note; fuel is not available at Banka Banka
Threeways Roadhouse was built on the corner of the Stuart Highway and the Barkly Highway to Queensland. However for reasons only understood by politicians and councillors, the road junction was recently moved a few kilometres south towards Tennant Creek.
If you are turning here towards Queensland, fill your fuel tank, water bottles and eskies, there is a long road between here and the next stop at Barkly Homestead.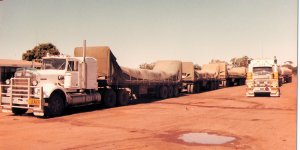 Road Trains at Threeways Roadhouse.
Threeways to Alice Springs
Distance 525 kilometres
Drive Time 6 hours
Fuel stops; Threeways, Tennant Creek, Wauchope (Devils Marbles Hotel), Barrow Creek, Ti-Tree, Alice Springs
Just a few kilometres south of Threeways is Tennant Creek, a town of about 3500 people and about 2/3rds of the way to Alice Springs from Darwin. There are only 3 stops between here and The Alice, so make the most of the towns amenities before you head off.
More information on travelling south from Alice Springs
Threeways to Mt. Isa
Distance 670 kilometres
Drive Time 7 hours
Fuel stops; Threeways, Barkly Homestead, Camooweal, Mt Isa
One of the loneliest stretches of all the roads to Darwin, the Barkly Highway only has 2 stops between the turn off and Mt Isa. Barkly Homestead is the first stop with Camooweal just over the Queensland border a further 250 k's along the road.
Note; fuel is not available at Avon Downs

| | |
| --- | --- |
| Camooweal roadhouse closes at 10pm, so if you plan to drive straight through to MT Isa, plan your fuel accordingly. There is no fuel available between Camooweal and Mt Isa. | A rare sight - rain clouds at Camooweal |
MT Isa to Cloncurry is the last stretch of this road with no decisions to make on where you are going next. Just past Cloncurry you have the choice of heading due east through Hughenden and Charters Towers to Townsville, or veeering south to Winton, Longreach and central Queensland.
This area of central Queensland is also famous for it's rich fossil deposits, formed long ago when the area was a shallow inland sea. Beginning with the Museum in Mt Isa there is plenty to see, including the Muttaburrasauras skeleton on display in Hughenden.



Northern Territory Community Banks
---
Other ways of travelling to Darwin

Click here to return from Roads to Darwin to Enjoy Darwin Home
---