Darwin Tourist Bus
aka The Tour Tub
The original Tour Tub has been replaced with a double decker bus.

The Tour Tub Operates from 1 April to 30 September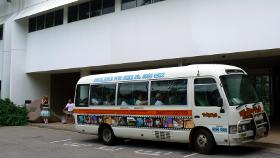 You can begin your tour of popular places such as the Darwin Museum, Doctors Gully Fishfeeding & the Indo-Pacific Marine anywhere along the route and travel as you wish all day. Spend as much time as you like at each stopover, then rejoin the Tour Tub for your next destination when it returns on subsequent loops.
The Tour Tub runs from 9am to 4pm, visiting 10 major attractions, (see map below)
Tour Tub Timetable
Operates daily from 9am - 4pm - Last tour departs City at 2.50pm
Purchase tickets from the driver.
$45pp full day. Children 4-12 years old $20pp. Family and group rates on application.
Ticket includes 50% discount for entry to World War II Tunnels.
Starting times for tours; 9.00am 10.10am 11.20am 12.30pm 1.40pm 2.50pm
Each tour follows the same route according to the times below.
Times are subject to traffic conditions, please allow a few minutes if you are planning to catch the bus.
The drivers of this Darwin tourist bus are experienced guides who can provide lots of information about the city and its colorful history. This friendly open-top bus is fits in well with Darwins casual lifestyle
The Tour Tub has been providing tours around Darwin since 1985. This colorful vehicle is popular with all age groups and is designed to be flexible and casual, just like the Top End lifestyle.
Darwin Tourist Bus Route
View Larger Map