Nightcliff Community
Banking and Retail
The Nightcliff Community Banking and Retail area serves from Coconut Grove to Aralia Street and Rapid Creek, also providing police, library, post office and non-profit charity services.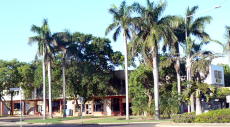 Phoenix St./Progress Drive corner.
Retail Shops in the Progress Drive and Mall area include;
A new Community Bank® is NOW OPEN at 40 Progress Drive
(site of old NAB branch)
Bendigo Bank Nightcliff
40 Progress Drive
Ph 8948 4485
Cash Advantage
34 Progress Drive
Ph 8985 5443
Claridge's Property Services
28 Progress Drive
Ph 8948 0770
Darwin Performance Academy
L3, 40 Progress Drive
Ph 8985 3333
DAZ
2/42 Progress Drive
Ph 8948 2992
Groove Cafe & Shop
Nightcliff Mall
Ph 8948 2773
Franks Seafoods
42 Progress Drive
Ph 8985 5741
Nightcliff 5 Star Supermarket
28 Progress Drive
Ph 8948 0979
Nightcliff Community Enterprise
40 Progress Drive
Ph 8948 4485
Nightcliff Post Office
44 Progress Drive
Ph 8985 5926
Nivagi Homewares
48 Progress Drive
Ph 8948 4002
Savvas Footware
46 Progress Drive
8948 1465
Nightcliff Fish & Chip Shop
38 Progress Drive
Ph 8985 4758
TAB
36 Progress Drive
8948 8600
The Good Luck Shop
(moved here)
8985 5926
Flagstaff Real Estate
Nightcliff Mall
Ph 8948 4321
Z.J.'s Barber Shop
2/38 Progress Drive
0411 403 305
Click here to add your business.

Sunday Morning Markets in the Nightcliff Mall attract a crowd who enjoy the entertainment provided while browsing the craft stalls for interesting bargins or original paintings.
More recreational sports and entertainment facilities are provided by The Planet centre with a bowling alley, kids play equipment and a health and fitness centre nearby.

This is a popular place for young children's Birthday Parties, there is plenty to keep them playing and partying.

Progress Drive, Nightcliff
Nightcliff Community Centre
The Nightcliff Community Centre provides office space for various community organizations, a community meeting room and a gymnasium room for performing arts, dance and similar activities.
Located at 18 Bauhinia St the centre is administered by the
Darwin City Council who can be contacted at 89 300 556
Corrugated Iron Youth Art 8948 3200
Integrated Disability Action 8948 5400
Mental Health Carers NT 8948 1051
Darwin Seniors Computer Club 8948 1274
Alzheimer's Australia 8948 5228
A.A. NT 8948 5202