Stuart Highway Caravan Parks
Stuart Highway caravan parks, accommodation, camping and roadhouses between Alice Springs and Darwin.

This list is intended for people on the move who just want a stopover without unnecessary travel off the road or particular sightseeing requirements.

For more information see also;
Darwin Accommodation Directory
Please use caution on this trip, check on actual conditions before you leave. On more than one occasion I've pulled into a fuel stop with the needle on empty only to find the local bowsers were empty too. It only takes a flash flood, an accident or similar to disrupt supplies to these isolated areas.
More information on the roads to Darwin
List your accommodation for free on the Darwin Accommodation Directory

Travelling north from Alice Springs;
Aileron Roadhouse
Stuart Highway(135km north of Alice)
Ph: (08) 8956 9703 Fax: (08) 8956 9868
Aboriginal art gallery,
accommodation: camping, caravan grounds and air-con motel rooms, pool, bbq picnic area.
Take a walk and view beautiful scenery, stop for fuel, buy some supplies at the store, or for a longer break enjoy some breakfast, lunch or dinner with an icy cold beer in the Glen Maggie bar!

Ti Tree Roadhouse
Stuart Hwy
Ti Tree
Telephone: (08) 8956 9741
Barrow Creek Caravan Park
Stuart Hwy
Barrow Creek NT 0872
Telephone: (08) 8956 9753

Wycliffe Well Holiday Park
Stuart Highway
ph: 08 896419
Wauchope Well Caravan Park
Stuart Hwy
Wauchope NT 0871
Telephone: (08) 8964 1963

Tennant Creek Caravan Park
Lot 208 Paterson Street
Tennant Creek NT 0860
ph: 08 89622325

The Outback Caravan Park
Peko Road
Tennant Creek NT 0860
ph: 08 89622459
Three ways Roadhouse
Stuart Highway ( near cnr Barkley Hwy)
FREECALL 1800 448 163
ph 8962 2744
Shady and grassed sites for Caravans and Campers in an outback setting. Enjoy a swim in the sparkling pool or relax with a cold beer or wine at the bar. Cook your own meal on free BBQ's or dine at the restaurant.

Banka Banka Station Camping Grounds
Stuart Highway
ph: 08 89644511
Renner Springs Roadhouse
Stuart Highway
Ph: 08 8964 4505 Fax:08 8964 4525
Email: info@rennersprings.com
www.rennersprings.com
Reception open 6.30am - 11.00pm27 Air-Conditioned RoomsPowered Caravan Sites - Shady CampgroundLicenced Restaurant - Lounge and Public Bar - Take Away FoodHomestyle Cooking - Shop and Souvenirs - Homebaked BreadBarbeque Area - Games AreaULP - Lead Replacement - Diesel - LPG - LPG Bottle Refill Station

Midland Caravan Park
102 Stuart Highway
ELLIOTT
NT 0862
ph: 08 89692037
Dunmarra Wayside Inn
Stuart Highway
Dunmarra NT
Telephone: (08) 8975 9922
Located 314 km south of Katherine and only 8 km south of the junction of the Buchanan Highway and the Stuart Highway.

Daly Waters Hi-Way Inn & Caravan Park
Cnr. Stuart & Carpentaria Hwys
Daly Waters NT 0852
Telephone: (08) 8975 9925

Green Park caravan park
Stuart Highway
Larrimah NT 0852
phone; 8975-9937
Larrimah is a classic Northern Territory outback town which began as a staging site for 3,000 WWII servicemen in the 1940s and now the town is a service centre for the surrounding districts.
Mataranka Homestead Tourist Resort
Homestead Road, Mataranka
Ph (08) 8975 4544
Fax (08) 8975 4580
Email matarankahomestead@bigpond.com.au

Territory Manor
Stuart Highway,
Mataranka
Ph (08) 8975 4516
Fax (08) 8975 4612
Email territorymanor@bigpond.com
Web www.travelnorth.com.au
Katherine Caravan Parks
Emerald Springs Roadhouse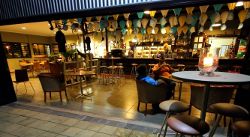 Emerald Springs Bar
Stuart Hwy
Emerald Springs NT 0847
Telephone: 08 8976 1169
Email: emerald.springs@bigpond.com
A destination in it's own right set in six landscaped acres of tropical gardens, this Stuart Highway caravan park is ideal for those with a 4WD wanting to visit local destinations that are off the usual tourist trail. Nearby Butterfly Gorge and Douglass Hot Springs were always favourites when I had a young family. A licenced restaurant and bar, conference and function facilities, ensuited rooms and both powered and unpowered caravan sites cater for accommodation.
More on Emerald Springs here.
Pine Creek Caravan Park
Moule St
Pine Creek NT 0847
Telephone: 908) 8976 1217

Laxy Lizard Caravan Park & Tavern
266 Millar Tce
Pine Creek NT 0847
phone 8976 1019

Hayes Creek Wayside Inn & Caravan Park
Portion 455 Stuart Highwway,
Hayes Creek
Ph (08) 8978 2528
Fax (08) 8978 22528
Email vjfisher@bigpond.com
Web www.hayescreekinn.com.au

Adelaide River Inn and Resort
106 Stuart Highway
Adelaide River NT 0846
Telephone (08) 8976 7047
Adelaide River Show Society Caravan Park
Dorat Rd
Adelaide River NT 0846
Telephone: (08) 8976 7041 or (08) 8976 7032
Facsimile: (08) 8976 7065

Shady River Caravan Park
War Memorial Drve off Stuart Hwy
Adelaide River NT 0846
Telephone: (08) 8976 7047
Acacia Hills
Acacia Roadkill Cafe and Caravan Park
Stuart Highway
Ph (08) 8988 2111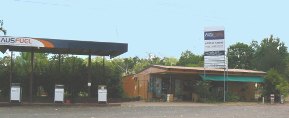 Acacia Ridge
Acacia is really the last of the Stuart Highway Caravan parks still really in the bush, just over the hill is the growing outer Darwin region of Coolalinga and Howard Springs.

List your accommodation for free on the Darwin Accommodation Directory
---
Return from Stuart Highway Caravan Parks to Enjoy Darwin Home.
---