World Refugee Day Festival
Since March 2020 life as we know it has changed forever due to the coronavirus COVID-19
To read the latest information see the Secure NT website  and  NT Steps to the New Normal 
Local businesses are adjusting to the 'New Normal', please check with the advertised contact for any updates or changes to an advertised service.
World Refugee Day Festival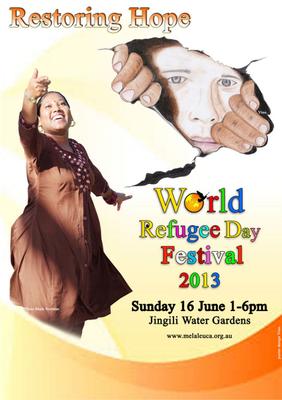 2015 World Refugee Day will be held on 20th June.
2015 World Refugee Day will be held on 20th June.

Details will be available here shortly.



In celebration of World Refugee Week, Melaleuca Refugee Centre will host the World Refugee Day Festival at Jingili Water Gardens on Sunday 16th June.

A community event "with heart", with powerful messages and an expression of arts and cultural identity new to the Territory. This is a celebration of the refugees who call Darwin home, bringing together the varied and vibrant cultures within our community.

World Refugee Week is a major annual event designed to inform the public about refugees and celebrate their contribution to Australian society. Again, the theme this year is "Restoring Hope". Refugees flee their homelands not only because they fear persecution, but also because they have hope: the hope to find freedom from persecution and the hope to find safety and security for themselves and their families; hope for the chance to start a new life and hope to recover from past trauma.

Australia is one of the countries that offers protection to refugees and provides them with an opportunity to rebuild their lives, restore hope for a future free from fear, persecution, violence and insecurity.

The theme also highlights the situation of refugees whose hopes have not yet been fulfilled.

The ultimate aim of the celebration is to create a better understanding between people.

General festivities commence at 1 pm and will feature the cultural village, world music, dance workshops, performances, Citizenship Ceremony, traditional costumes and crafts, food tasting from around the globe, and activities for the children.
The day will focus on messages that champion human rights locally and globally.

"This event depends so much on the creative, enthusiastic participation of people from a refugee background who call Darwin home. I really notice the flow of good will between these new community members and the many people across Darwin who appreciate that and get involved themselves."
Ali Nur, Director of Darwin's Melaleuca Refugee Centre.

Join in and write your own page! It's easy to do. How? Simply click here to return to Darwin 2015 Calendar.