Crocodiles
Timetable for Swim, Feed and View them.
Crocodiles - timetable to swim with crocs, feed or just watch them, all in central Darwin at Crocosaurus Cove, 58 Mitchell St.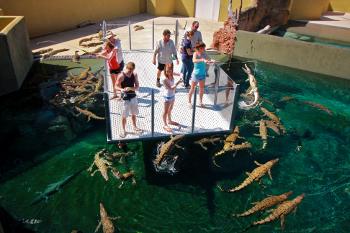 Feeding crocodiles at Crocosaurus Cove in MItchell St.
These times and events were supplied by Crocosaurus Cove.
If you need to check their accuracy at today's date, please call Croc Cove.
ph 08 89817522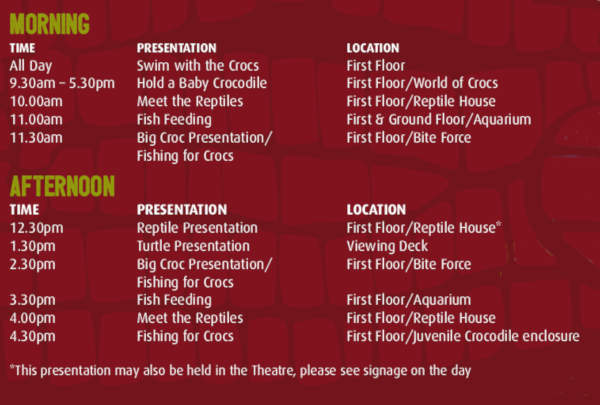 Crocosauros Cove timetable, Mitchell St Darwin
Swim with the Crocs: Only Crocosaurus Cove allows you to swim face to face (safely of course!) with our very active juvanile crocs Be the Paparazzi and snap away,as these guys love to show off for the camera!

Cage of Death: Don't miss the opportunity to dive with our 'salties', in the only encloser of its kind in the WORLD! Bookings HIGHLY recommended for this once in a lifetime experience. Bookings are available at reception.

Meet the Reptiles: Join the handlers and some of the friendly inhabitants of the Reptile House in an informative look at Croc Cove's cutest reptiles. Hold Blue Tongue lizards, Western Bearded Dragon's and friendly Pythons and learn about reptiles from the tropical north.

Meet the Crocs: This is your chance to smile at a crocodile..and for the camera! Don't miss the opportunity to get up close and personal with these amazing creatures..before they get too big!
Fish Feeding: Watch as our handlers get a chance to cool off & emerse themselves into our 222,000 litre aquarium! The fish feeding is up close and personal with the diver hand feeding many of the inhabitants. Don't forget to look out for the amazing saw-fish, the beautiful pig nose turtles, the saratoga's and many more Northern Australian tropical fish species.

Fishing for Crocs: The latest attraction at Crocosaurus Cove..Fishing for Crocs gives you a chance to feed our juvanile crocs, who, like hungry teenagers are eager to jump out of the water to get an extra helping of buffalo meat!

Bite Force: What do a 20kg bag of potatoes and a Semi Trailer have in common? Come and hear all about it at the Bite Force exhibit and see what these amazing creature are really made of!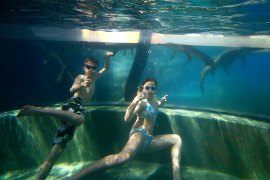 Seeing crocodiles from under water.
Bring your bathers for a cool dip right next door to the crocodiles.
More about crocodile tours 


Crocodile Farms


---
Return from Swim with Crocodiles to Enjoy Darwin Home.

---