Darwin Accommodation Book
Booking Darwin Accommodation
Booking your Darwin accommodation can be done online with most of the larger hotels and backpacker inns. Smaller bed & breakfast guest houses need to be contacted directly.
At the height of the tourist season literally every room can be filled for days on end.

In the wet season we see TV ads for "mates rates" to entice locals to spend a night or two relaxing in a hotel room.

If you are visiting between May and August, it's probably best to book well in advance.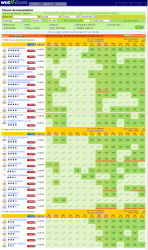 wotif.com.au for July
Some internet sites provide discounts for last minute bookings, which might be OK if you have no fixed itinerary, a bit chancy if you are flying in and out on particular days.

It pays to shop around - sometimes one website will say there are no vacancies, while another can still show rooms available.
This is because the hotels tend to allocate a certain number of rooms to each site.
Most also have their own independent in-house booking service too, so it definitely pays to look around.

discoveraustralia.com.au for same dates.
The top image from wotif.com.au shows rooms available (dark green) while a similar search at discoveraustralia.com.au shows most of the same hotels fully booked (grey) over the same period.

According to an article published on https://www.smartcompany.com.au on September 11 2018;
Expedia Group — which owns namesake Expedia, Hotels.com, Trivago, Wotif and Stayz.com.au— says it operates more than 200 travel booking sites across 75 countries, posting $US10.7 billion ($15 billion) in revenue for the year ended 30 June.

The company acquired Australian-founded Wotif.com for $703 million in 2014. 
Booking Holdings — which owns Booking.com, Priceline.com Kayak and Agoda— says it operates in more than 220 countries and generated more than US$81 billion ($113.9 billion) in gross bookings in 2017.
If you use an Online Travel Agent (OTA) to find accommodation it is still likely to be worth making a direct call to the accommodation you like to check on prices before you make that booking.
Enjoy Darwin has no commission arrangements with individual accommodation businesses in the NT.
This service provides a commission
to the website.
---
Darwin Accommodation Directory

Specialized Darwin Fishing Accommodation

Darwin Bed & Breakfast Accommodation

Click to return from Darwin Accommodation Booking to Enjoy Darwin Home.
---