Litchfield Park Adventure
One family's experience of Litchfield Park, visiting the eerie Lost City, swimming in clear fresh waterfalls and enjoying the real Australian Outback. Read on as Jackie recalls her experience...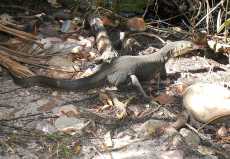 Water Monitor
Darwin has a secret. Well it's not exactly a secret, but it is something that should be far better known in the world wide community than it is. Ok, so I'm a little glad it's not because I got to see it for myself and experience something incredible that Darwin has to offer without having hordes of people say, "yea, I been there" I'm talking about Litchfield National Park.
Don't get me wrong, Kakadu was amazing, and everything I had hoped for. But with so much world wide focus on Kakadu National Park, Litchfield Park tends to become an afterthought. Litchfield was not originally one of our big plans when we were traveling the top end of Australia, Kakadu was it for that part of the country, but after leaving Kakdu and reading the signs on the highway pointing to Litchfield Park only an hour or two west, my family and I thought "why not" and called in just for a look.
Our kids had the best time in Litchfield, here was somewhere in the top end that we could let the kids swim and play a little without the concern that they might be crocodile bait if we weren't careful. Certainly Litchfield is not a casual water park; it is still an incredible place offering a real Australian landscape.
We chose to visit Litchfield after being told that there were a couple of good safe water holes there the kids would enjoy, so really, my husband and I were not too interested for ourselves being more interested in living rough for a few months. This certainly changed once we got there.
Just an aside, some will say that traveling with kids holds you back, but in my experience, having kids has shown us the best of Australia by sending us to places we would not have been if it wasn't so they kids could get an education or have a little play time.
Naturally our first stop in Litchfield Park was Wangi Falls. We made this our base camp while we explored the rest of the National Park. It had just turned October so we were lucky to have stopped there just before the monsoon season started. I hear the waterfalls are incredible during the monsoons, I will go back and have a look at this for myself one day, but just seeing the waterfalls then was enough to satisfy some strange need to immerse myself in running water.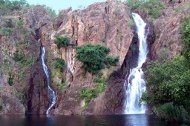 Wangi Falls....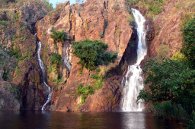 ..changes colour..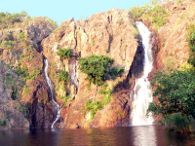 ..in the setting sunlight
Wangi Falls changes colour in the setting sunlight.

The pool is closed to swimming during the wet season when the huge volumes of water make swimming unsafe.


Check swimming conditions here
My kids are good strong swimmers coming from the beaches ourselves, and Wangi is considered to be a good safe water hole for swimmers, but please put some floaties on the little ones and get in the water with them.
The bonus in Litchfield Park for our family was the fact that there were other campers and families around and the kids had some valuable interaction time with other kids. We had been travelling for a long time and bush camping, but respect the needs of kids to stay social. The bonus for us adults was that it certainly wasn't crowded nor did it have that "popular tourist" destination population density we went out of our way to avoid.
While taking advantage of the opportunity to swim, we also visited Florence falls in Litchfield. This spot was amazing. I will describe this as a truly memorable experience. The falls itself was incredible to look at and I have my most treasured family photograph from here of my husband and kids enjoying the water. I swam to the fall itself and just felt the water around me and the spray in my face.
My husband was happy enough that we heard about a small fresh water crock that lived in a rock on the fall and he swears he heard it breath. (No, I didn't let the kids swim over to find out, just because their father is an idiot, with my luck that placid freshy would turn out to be a growing salty)
It was from another camper that we learned about The Lost City. This is still one of my favorite places in the whole world. The lost city in Litchfield National Park is a series of sandstone towers that time has created and shaped into a haunting, and inspiring formation that resembles the ruins of some ancient advanced civilization. The feeling I felt walking in the lost city has never left me.
In fact, my stay at Litchfield Park will always be remembered as that thing I did that made me know how blessed I am to proudly call Australia my home.
More information on Litchfield Park
Darwin Caravan Parks

Daly River Caravan Parks

Katherine Caravan parks

Stuart Highway Caravn Parks