Cyclone Tracy Short Stories
Since March 2020 life as we know it has changed due to COVID-19

For the latest information see the  Secure NT website   and   NT Steps to the New Normal 
Local businesses are adjusting to the 'New Normal', please check with the advertised contact for any updates or changes to an advertised service.

These Cyclone Tracy Short Stories make interesting reading. The cyclone had a devestating impact on Darwin and a lasting effect on many people who were not even in Darwin in 1974 when it hit.
The events of Xmas 1974 are studied in many schools around Australia
(These are deliberately published without any editing)
The photo below was taken after Cyclone Marcus hit Darwin in 2018. Although it was only a category 2 storm it did extensive damage which took months to clean up.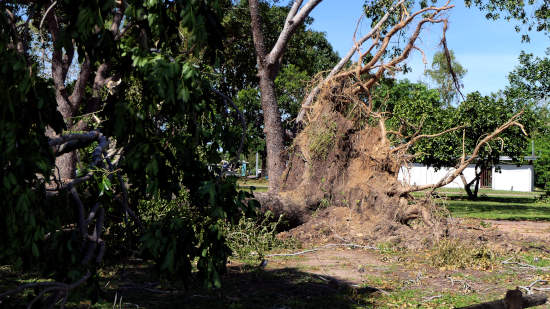 Large tree uprooted by Cyclone Marcus in 2018
You are a hero

I sat by my window wondering when the outskirts of cyclone Tracy would hit this is a horrific event with devistating consiquences. For everyone one who when through this and survived are real Heros
This is a option of a year 6
Everything Gone!

I was just 2 years old when our family went through Cyclone Tracy, we lost everything. Even from such a young age I remember the noise, it's something I'll never forget. Darren Anderson Brisbane, Queensland
My Home Dead
When Cyclone Tracy hit, I was comnpletely unawear. Me and my family, two kids and my wife, were stuck in winds of about 100 km/h winds. We were two blocks away from home and with a child each we ran as fast as we could. As we were running we were nearly carried by the wind. When we arrived the kids were crying and we ran down to the backyard and down into the cellar. After about a half hour we heard a loud noise close by and new that it was the roof of our house coming of. Our walls followed. Our house was completelky gone when we came out.
Tracey's Power.

the winds were unimaginably strong. There was no sign of shelter and people with terrified faces huddled together. my family was in the middle of it. We had been through something like that. We never ever returned. our dog always howls in a storm. He cannot bear them. Neither can we.

Anika,
Pymble, Sydney
My time during cyclone Tracy

I woke up that morning the childrens present were gone the town was devestated my husband had woken up early to go and get milk he never came back. The noise was terrible ilost a limp from the dog. i wish i had my arm.

Beth,
Sydney
From Brittany and Chelsea in year 5Perth

I was not born but i fell very sad for all those people who lost there homes and died.if i was born before i would have done my all to help!!!
I dont have much to say, i lived in darwin when cyclone tracy hit. I was 7 months old so i don't know much, but i do know i was evacuated from darwin with my parents.
Jason hart
cyclone tracy comes along and ruins everything

i was lying in bed sick when the cyclone hit at midnight christmas eve, my children ran in crying sayin a huge storm was outside. i was horrified to hear the new form the radio that cyclone tracy had touched down on the foreshore of darwin. my husband was at work. he hadnt called up so i was getting worried. me andmy children grabbed all the matresses and hid under the table it was terrible.

justine,darwin
Letter by Acting Prime Minister Dr Jim Cairns
A brief history of Darwin Cyclones
More Cyclone Tracy Pictures and Information.
Cyclone Tracy - The Movie
Darwin Wesleyan Church -historic survivor
Cyclone damage photos - Cyclone Helen, Jan 2008
---
Click here to return Home from Cyclone Tracy Short Stories

---