Darwin 2012 Calendar
This Darwin 2012 Calendar of sports, festivals, markets and attractions will allow visitors to plan their time in Darwin.

Darwin Time and Date

Dates for some events are still to be finalized and will be published as they become available. Click on the Event Name for more detailed information, only dates and locations are shown on this page.
Use this search box to find events for 2012/13.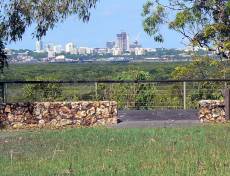 Darwin City viewed from
Charles Darwin National Park.
Regular weekly events
Chinese New Year is on Monday, 23rd January 2012.
This is the year of the Dragon .
Open Days Darwin 2012 Calendar
Take advantage of the opportunity to see some special places.
Annual Darwin Anniverseries,Festivals & Shows
Green & Gold Territory Craft
Members Exibition
January 2012
Museum grounds, Bullocky Point
Australia Day
26 January - A full weekend of activities
check the website for details.

Travelling Film Festival
BC&C Darwin 5 Cinemas.
Darwin
2-5th February 2012
Goyder's Day
Deckchair Cinema
Darwin
5th February 2012
70 th Anniversary of the Bombing of Darwin
Cenotaph, Bicentennial Park,
Darwin
9.30am
19th February 2012
Enchanted Moments Wedding Expo
Holiday Inn
The Esplanade
4-7pm Saturday 4th February
10am-3pm Sunday 5th February
Darwin Flight Centre Travel Expo
Darwin Convention Centre
March
9am - 3pm
Admission is free

Darwin Symphony Orchestra
Darwin Entertainment Centre
Shakespeare concert
8.00pm March 3 2012
contact 04 662 553 51

MoveMeNT Dance Expo
Casuarina Senior College,
Cnr Trower & Parer Road, Moil (Darwin)
10am - 4pm
Sunday, 11 March 2012
contact 08 8981 7002

Harmony Day

21 March 2012
Carnival Party 2012
NT Latino Association
Live Band Sabrosito Latin Trio
MelSamba Show and more
Cypriot Greek Hall,
30 Batten Rd Marrara.
Ticket Sales at the Door - $15 Fancy Dress, $20 Casual
Saturday March 31st from 6pm - Midnight
contact; latinos_nt@yahoo.com.au
Darwin Life & Home Expo
Darwin Convention Centre
Wharf Precinct
April 2012
Autism NT Annual Ball and Auction
Holiday Inn
The Esplande
Sat 28th April 2012
7:00 pm
Arts & Craft Expo
Hi to the Dry Craft Fair
16th April 2012
Museum grounds, Bullocky Point
Katherine Country Music Muster
Katherine
April- May (TBC)
www.kcmm.com.au
Never Never Festival
Mataranka
11-13 May 2012

Daly Waters Rodeo, Campdraft and Gymkhana
Daly Waters Rodeo Grounds , Daly Waters
Friday 4th May to Monday 7th May 2012
Tel: 08 8975 9936

Sea Breeze Festival
Sat 5th May 2012
Nightcliff Jetty & Cliff Tops
Fred's Pass Rural Show
Freds Pass Reserve
Friday 18th to Sunday 20th May 2012

Professional Bull Riders (PBR) Touring Pro Series
Robbie Robbins Reserve
Berrimah
Friday 25th & Saturday 26th May May 2012

BASSINTHEGRASS
Darwin Ampitheatre
Saturday 26th May 2012
Tracy Village Family Fun Day
28 Tambling Terrace
Sunday 27th May 2012
The Darwin Eisteddfod
Darwin Entertainment Centre
May 2012
Merrepen Arts Festival
Daly River
1-3 June 2012
Tropical Gardens Spectacular
4 - 5 June 2011
8am - 8pm
Darwin Botanic gardens
Fist Full of Films Galah Awards Night
Territory Short Film Screening
Civic Park & Brown's Mart
3-4 June 2011

Adelaide River Show,
Adelaide River
9 - 10 June 2012

Greek Glenti
Bicentennial Park
The Esplanade
9 -10 June 2012
Sunset Ball
Trailer Boat Club
9 June 2012
World Refugee Day Festival
Jingili Water Gardens
16 June 2012
Monsoon Sessions
An 11 Day Workshop Festival for Artists
Browns Mart
14 -24 June 2012
Darwin Latin Dance Festival
Darwin Entertainment Centre
93 Mitchell St
June 2012
Borroloola Gulf Show
Borroloola Sports Grounds
29 June 2012 (TBC)

Pine Creek Goldrush
Goldpanning Championships
Art Exhibition Friday
Goldpanning & Heritage Ball Saturday
29th of June to the 1st of July 2012

Katherine Fringe Festival
Various Venues
June 2012
Katherine Regional Arts
Darwin Blues Festival
Darwin entertainment centre 28th June
Gardens amphitheater 29th June
Gardens amphitheater 30th June
28-29 June 2012
Darwinbluesfestival@gmail.com
Snap It Up
Darwin Entertainment Centre
Mon 22 June to Fri 3 July
Orchid Spectacular
Foskey Pavillion
Darwin Showgrounds
23 & 24 June 2012
9am - 5pm Daily
Arnhemland Bird Week
Maningrida
June - July 2012

Territory Day Fireworks
Beaches around Darwin
1 July 2012
Darwin City Muster
Gardens Ampitheatre, Darwin
Held every 2 years - July 2013
Tennant Creek Show
Tennant Creek Showgrounds
13-14 July 2012

Beer Can Regatta
Mindil Beach
Sunday 15th July 2012
10am to about 5pm
Palmerston Power Basketball Club Family Fun Day
YMCA Palmerston Recreation Centre
11 The Boulevard Palmerston
20th of July
10am to 2pm
Katherine & District Show
Katherine Showgrounds
20-21 July 2012

Dragonfly Craft Fair
Sunday 22nd July 2012.
Museum grounds, Bullocky Point
History and Flora of the Gardens
Talks, afternoon tea and entertainment
July
Wesleyan Church, George Brown Darwin Botanic Gardens
Royal Darwin Agricultural Show
Darwin Showgrounds
27-28 July 2012
2012 Portrait of a Senior Territorian Art Award and Exhibition
Parliament House
27 July to 15 August 2012
Winners announced 1 August
Darwin International Guitar Festival
Held every 2 years - 2013
Darwin Turf Club Gala Ball
Darwin Turf Club
Fannie Bay Racecourse
4 August 2012
LingaLonga Festival
Batchelor
8am to 10pm
Saturday 4 August 2012.
Garma Festival
Gulkula
Arnhemland, NT
3-6 August 2012
Katherine Festival
Katherine
11-25 August 2012
Darwin Festival
Darwin
Full program to be announced 27 June
9 - 26 August 2012
Telstra National Aboriginal and Torres Strait Islander Art Award
Museum and Art Gallery of the Northern Territory
19 Conacher Street
August to October 2012
Darwin Championship Rodeo
Robbie Robins Reserve
Stuart Highway, Berrimah
12 - 13 August 2012
National Indigenous Music Awards
August 2012
Palmerston Festival
Begins at the Palmerston Friday Markets
Friday 31 August & Sat 1 Sept 2012
Darwin Boat & Leisure Show
Darwin Convention Centre
1-2 September 2012
Cyprus Food and Wine Festival
Cyprus Function Centre
30 Batten Road, Marrara
1st September 2012
Darwin Chorale presents
"Australian Songs from the Bush to the Beach"
Darwin Entertainment Centre
Friday 21 and Saturday 22 September
Tickets are $37 & Concession $32.
BOOK NOW ON 8980 3333
Nightcliff Orchid Society Annual Spring Show
Wesleyan Church
George Brown Botanical Gardens
Gardens Rd
September 2012
Orchids are available for purchase
Admission FREE
Latino Gala Ball 2012
6th October
Darwin Convention Centre
Off the Rack - Art Exhibition curated by Tom Pauling
6 October 2012 - 7 April 2013
Museum and Art Gallery of the Northern Territory
Bullocky Point
Darwin

NT Children's Week
20 -28 October 2012
Darwin Fridge Festival
Darwin Community Arts
Malak October to November.

Darwin Pride Festival
16-25 November
Darwin

RIGHTS ON SHOW Art Exhibition
Opens Thursday 6 December 5.30 pm
Supreme Court Foyer
Darwin


Darwin Open Garden Scheme
Enjoy the best NT gardens
2012 gardens here...
Sports & Racing Darwin 2012 Calendar
Darwin Motorsports at Hidden Valley
Heineken Hottest 7s Rugby
Austar Rugby Park
20 - 22 January 2012
www.hottest7s.com
info@ntrugby.com.au
Tiwi Football Grand Final
Bathurst Island
Sunday 18 March 2012
DMCC Top End Hire Thumper Series
Hidden Valley Motor Sports Complex
06 March 2011 (Round 1)
9:00 AM to 5:00 PM
20 March 2011 (Round 2)
3 April 2011 (Round 3)
Rural Athletics Club
Freds Pass Oval
Season start
Saturday 19th March, 8.00 am - 10.30am 0408837680
ruralaths2009@gmail.com
Australian Superbike Championship
Hidden Valley Motor Sports Complex
April 20-22 2012
Arafura Games 2013
May 2013
Marrara Stadium

Precision Motorcycles KAMFARI
40th Anniversery
May 2012
Various locations around Darwin
Tel: 0408 894127

Pine Creek Cup
Pine Creek Turf Club
5 May 2012

Darwin Drag Racing
Hidden Valley Motor sports Complex
April - September 2012

Simply the Breast Yacht Race
Darwin Habour
May 2012
Adelaide River Cup
Dorat Rd
Adelaide River
2 June 2012
Top End Monster Truck Spectacular
Northline Speedway
Hidden Valley Motor Sport Complex , Darwin, NT
June 2012

Hellraisers of Insanity Stunt Spectacular
Northline Speedway
Hidden Valley Motor Sport Complex , Darwin, NT
June 2012

2012 Australian Sprintcar Championships
Northline Speedway
Hidden Valley Motor Sports Complex
May to October Calendar

V8 Supercars
Hidden Valley Motor Sports Complex
15 -17 June 2012
2012 Australian Karting Championships
Hidden Valley Go Kart Track
7-8 July 2012
Demonition Derby
Hidden Valley Motor Sports Complex
July 2012 (TBC)
Dinah Beach Darwin to Ambon Yacht Race
Stokes Hill Wharf
25 August 2012
Territory REL Week
Batchelor Airstrip
July 2013 (Bi-annual event)
DMCC Pony Express
To be Announced 2012
Tel: 0408 894127
Darwin Cup Carnival
Fannie Bay Racecourse Darwin
August 2012 (TBC)
Saturday 7 July 2012 - Day 1, Hot 100 Darwin Guineas Race Day
Saturday 14 July 2012 - Day 2, Trans Territory Foods Chief Minister's Cup Day
Wednesday 18 July 2012 - Day 3, Bridge Toyota Ladies Day
Saturday 21 July 2012 - Day 4, SKYCITY NT Derby Day
Saturday 28 July 2012 - Day 5, SKY Racing Metric Mile Race Day
Wednesday 1 August 2012 - Day 6, Colemans Printing Race Day
Saturday 4 August 2012 - Day 7, Palmerston Sprint Race Day
Monday 6 August 2012 - Day 8, Carlton Mid Darwin Cup
CYCLONE MOTORCYCLES BOULDERDASH
1st and 2nd September 2012
Tel: 0408 894127
INBA NT & Combined Services Natural Physique Titles
Download Entry Forms here
1.30 TO 5.00PM
Saturday 29 September 2012
Darwin Entertainment Centre
Contact Kay Wiseman on 0439 622 180.

The TOUR (trailride)
September 2012
Tel: 0408 894127
World Solar Challenge
October 2013 (TBC)
Darwin to Adelaide
Christmas Festivals 2012
Christmas Craft Fair
Sunday 18th November 10am - 3pm
Museum grounds, Bullocky Point
Darwin Christmas Tree Lighting
(TBA) November 2012
A Christmas Craft Fair Extravaganza
Saturday 1st and Sunday 2nd of December 2012.
Marrara Indoor Stadium
Abala Rd, Marrara
9am to 4pm
A $2 entry fee will apply for adults, children free.
Carols By Candlelight
2 December 2012
Darwin Amphitheatre,
George Brown Botanical Gardens.
New Years Eve on the Wharf
31 December 2012
Fundraising Events
Beat A Path Heart Foundation Fun Run Walk
6 May 2012
7.15am registration for 8.00am start
East point Reserve beside lake Alexander car park
Adults $15 Children (5-15) $5, Children under 5 free


Australia's Biggest Morning Tea
May - June 2012
The official day is Thursday 24th May -
you can host a function anytime in May or June
Add your Biggest Morning Tea here
For more information please call 1300 65 65 85



Variety NT Celebbrity Bowls Day
Friday, June 29, 2012
Darwin Bowls Club, Fannie Bay
Join celebrities Wilbur Wilde and Frankie J. Holden for this fun and informal afternoon! All proceeds going to Variety, the Children's Chariety, NT, to support children with special needs in the NT!


Go Red for Women Movie Night
Deckchair Cinema,
Kitchen Drive, Wharf Precinct,
Thursday 12 July
Time: 6.30pm for 7.30 start
Contact the Heart Foundation NT
Ph 8982 2700
ntevents@heartfoundation.org.au or tickets can also be purchased at the door


Postie Bike Pageant
6th July 2012- 14th July 2012
6th July- Yulara
7th July- Alice Springs
8th July- Barrow Creek
9th July- Tennant Creek
10th July- Daly Waters
11th July- Mataranka
12th July Katherine
13th July Adelaide River
14th July Ski Club Darwin
The Postie Bike Pageant will see 8 Postie Bikes and 17 Participants ride from Yulara to Darwin, raising money and awareness for two great charities- WIN (Women In Need) and Project Dovetail.


Cancer Council Fundraising Fun
August to October 2012
Daffodil Day -Friday, 24th August
Darwin Sailing Clubs Annual Mud Crab and Quail Dinner and Auction
Saturday 1st September 2012
Relay For Life Darwin 28th and 29th September 2012
Girls Night In throughout October
Pink Ribbon Day 22nd October 2012


Paddy Day Cup
05 Aug 2012 - 2.00pm - 6.00pm
Gardebs Oval (2nd Oval), Gardens Road, Darwin
Friends of the late Paddy Bird (Bailieboro, Co Cavan) are holding a Ireland v Australia International Rules game in his honour.
Paddy died tragically in a gas explosion outside his house in Darwin on December 16, 2011.
Come along and watch the Irish and Australian teams battle it out for the inaugural Paddy Bird Cup.
Also on the day; Licenced Bar (no BYO), BBQ, raffle and the after-party in Parap Village Tavern, Parap from 6pm!!!
Come along and support this fantastic event and make some new friends, everyone is welcome!


Darwin Open Garden Scheme
Enjoy the best NT gardens
Proceeds help local Charities
2012 gardens here...