Darwin 2018 Calendar
The Darwin 2018 Calendar of sports, festivals, markets, open days and just about anything else that is happening around Darwin this year.
Add your event to the calendar here, whether it's fund raising, a fishing competition, a floral show or a seabreeze festival, there's room for everyone.

Use this search box to find 2018 events.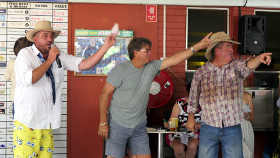 Frog Auction at Noonamah on Melbourne Cup Day raises money for charity.
 Click on the Event Name for more detailed information, only dates and locations are shown on this page. Dates for some events are still to be finalized and will be published as they become available.
Regular weekly events
Market Days
Open Days 2018 Calendar
Take advantage of the opportunity to see some special places.
Annual NT Anniversaries, Festivals & Shows
January
Australia Day
City of Darwin
Australia Day Awards Event
26 January 9.30am - 11.30am
Darwin Entertainment Centre
A full weekend of activities around Darwin
check the website for details.
Island of Origin Football Match
Tiwi Islands
26 january 2018
Oz Fusion celebrates Darwin's cultural diversity
26 January
Palmerston Recreation Centre
4:00-7:00pm
alcohol free event
February
Travelling Film Festival
BCC Darwin City Cinemas
Cnr Mitchell & Briggs Streets
Darwin NT 0800
8-11 February 2018
Goyder's Day
Deckchair Cinema
Darwin
5th February
NT Archives Centre Goyder Day Exhibition
Kelsey Crescent, Millner.
5-28 February
Monday to Friday, 9:00am-4:30pm
ph 8999 6890

Anniversary of the Bombing of Darwin
Cenotaph, Bicentennial Park,
Darwin
9.30am
19th February
March

Tiwi islands Grand Final and Art Sale.
Tiwi Island
Sunday 18 March 
Book ferry service here.
Good Friday
30th March 2018
April
Easter Monday
2 April 2018
Nepal Festival – Nepalese New Year 2075 BS
Darwin Waterfront
Saturday 14 April 2018 
3pm until 9pm.
Heritage Festival
2 weeks of events
Monday 16 to Sunday 29 April
Deckchair Cinema Opening Night
Indonesian Film Festival
Darwin Waterfront
Wednesday 18 April
6pm 


Anzac Day
Wednesday 25 April
Battle of the School Bands
Brown's Mart 
Friday 27 April 6pm
Gold coin donation

Thailand Grand Festival
(formally the Songkran Festival)
Darwin Waterfront
Saturday 28th April
4pm to 10pm
Malak Marketplace
4pm-9pm
Saturday 28th April
Every Saturday to October 28th 2018
May
May Day
Monday 7th May
Seabreeze Festival
Nightcliff Foreshore 
Saturday 12 May 2018                                                                     

Freds Pass Show
Stuart Highway,
Saturday 12 May 2018
Mothers Day Craft Fair
Darwin Waterfront
Sunday 13 May 2018
Bass in the Grass
Darwin Ampitheatre
Gardens 
Saturday 19 May 2018 (TBC)
Harmony Soiree
Darwin Waterfront
Saturday 26 May 2018
Orchid Spectacular 2018
Foskey Pavillion
Tate Place
Darwin Showgrounds, Stuart Hwy
Winnellie NT


Nightcliff Community Bank
Seabreeze Art prize awards
Bank Branch
40 Progress Drive, Nightcliff
10am 19 May 2018
June
Territory Taste Festival
Convention Centre
Darwin Waterfront
2-3 June 2018
Cota NT Seniors Expo 
Palmerston Recreation Centre
11 The Blvd, Palmerston City
(This is a new location)
Friday 1 June
10am to 2pm 
Darwin Italian Festival
George Brown Darwin Botanic Gardens
Summer Sessions Beach Party
The Boatyard at Vesteys Beach 
20 Conacher Street, Fannie Bay, NT 0820, Australia
Saturday 9 June 2018

Greek Glenti
Bicentenial Park 
9-10 June 2018
Barunga Festival
Barunga NT
8-10 June 2018
Queens Birthday
Monday 11 June 2018
Darwin Supercars Triple Crown
Hidden Valley,
June 15-17 2018
Borraloola Show Day
29th June
July
Territory Day
Sunday 1 July 2018
Darwin PBR
Saturday 1st July, 2018 (Territory Day)
Robbie Robbins Reserve – 176 Stuart Hwy, Berrimah NT 0828
Gates Open: 4:30pm
Event Starts: 6:30pm
Event Finishes: 9:30pm with live band, DJ and Bar until 1am.
Alice Springs Show Day
Friday 6th July 2018
Dragonfly Craft Fair
Sunday July 
Shannon's Rockabilly Classic Car Show
Noonamah Tavern
Stuart Highway, Noonamah
Tennant Creek Show Day
Friday 13 July 2018
Katherine Show Day
Friday 20 July 2018
Darwin Fringe Festival
15 - 25 July

Darwin Show Day
Darwin Showgrounds
Stuart Highway
Friday 27 July

August
Women's Leadership Symposium
Darwin Convention Centre
1 August 2018
Picnic Day
Monday 6 August 2018

Darwin Cup Day
Fanny Bay Racecourse
Monday 6 August
Darwin Aboriginal Art Fair
Darwin Convention Centre,
Stokes Hill Road, Darwin, NT
10-12 August 2018


Darwin Festival
9 - 26 August
September
Fathers Day
Sunday 2 September
APGA Annual Convention and Exhibition
Darwin Convention Centre
 8 to 11 September 2018


Darwin International Film Festival
Deckchair Cinema
 September


October

Cox Country Club Market
103 Cox Drive
Wagait Beach
November
Charles Darwin Film Festival
Darwin Entertainment Centre
 November 
Rights on Show
Darwin Community Legal Service's 
24th human Rights Art Award and Exhibition
Darwin Supreme Court
State Square,
Darwin City NT 0800
 November –  December 2018
8.00 am – 5.00 pm Monday – Friday
All  Free All Welcome
Christmas Craft Fair
Marrara Indoor Stadium,
Abala Road Marrara (near Darwin Airport)
Saturday 25th and Sunday 26th November
 9am to 4pm. Adults $2 Children Free

December
Carols by Candle Light
Botanic gardens ampitheatre
6.30pm and finishes at 8.30pm
followed by a fireworks display.
Gates open 4.30
Free Entry
Christmas Day
Tuesday 25 December 2018
Boxing Day
Wednesday 26 December 2018
Fundraising Events

---
Return Home from Darwin 2017 Calendar

---