Darwin 2014 Calendar
This Darwin 2014 Calendar of sports, festivals, markets and attractions will allow visitors to plan their time in Darwin.

Add your Event
If you are organizing an event in Darwin during 2014, please build your own Information Page here, we'll host it and link it in to the 2014 calendar.
Or use this form to send in the minimum details so we can add the event to the Darwin 2014 calendar.
Darwin Time and Date

Dates for some events are still to be finalized and will be published as they become available. Click on the Event Name for more detailed information, only dates and locations are shown on this page.
Use this search box to find events for 2014.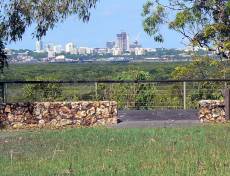 Darwin City viewed from
Charles Darwin National Park.
Regular weekly events
Open Days Darwin 2014 Calendar
Take advantage of the opportunity to see some special places.
Annual NT Anniverseries,Festivals & Shows
January

Australia Day
Australia Day Awards Event
Sunday 26 January 9.30am - 11.30am
Darwin Entertainment Centre
Holiday Monday 27 January - A full weekend of activities
check the website for details.

February

Travelling Film Festival
BC&C Darwin 5 Cinemas.
Darwin
6-9 February 2014
Goyder's Day
Deckchair Cinema
Darwin
5th February 2014
Anniversary of the Bombing of Darwin
Cenotaph, Bicentennial Park,
Darwin
9.30am
19th February 2014

March

Enchanted Moments Wedding Expo
Holiday Inn
The Esplanade 8 & 9 March 2014

Cyprus Food and Wine Festival
Cyprus Function Centre
30 Batten Road, Marrara
March 2014
Clean Up Australia Day
March

Darwin Flight Centre Travel Expo
Darwin Convention Centre
9 March 2014
Admission is free

Darwin Symphony Orchestra
Darwin Entertainment Centre
Events To be Announced
2014
contact 04 662 553 51

MoveMeNT Dance Expo
Casuarina Senior College,
Cnr Trower & Parer Road, Moil (Darwin)
10am - 4pm
March 2014
contact 08 8981 7002

Harmony Day
Darwin
31 March 2014
(National Harmony Day is 21 March)
T4321 - Tea For Trisomy 21
World Down Syndrome Day
Down Syndrome Association NT office
Rapid Creek Business Village
March
dsant@octa4.net.au
ph; 89856222

April

Easter Weekend
Friday 18 to Monday 21 April 2014
ANZAC Day
Friday 25 April 2014
Katherine Music Week
Katherine
April 2014

Deckchair Cinema Opening Night
Darwin Wharf
Wednesday 16 April, 2014

Mindil Beach Markets
Opening Night 2014
24 April

Open Cockpit Day
Aviation Heritage Centre
Stuart Highway
April


May

Sea Breeze Festival
Sat 3rd May 2014
Nightcliff Jetty & Cliff Tops
Darwin Life & Home Expo
Darwin Showgrounds
Saturday May 3rd
Sunday May 4 th
9am to 4pm each day.
May Day Monday 5 May
Daly Waters Rodeo, Campdraft and Gymkhana
Daly Waters Rodeo Grounds, Daly Waters
May Day Weekend 2014
Tel: 08 8975 9936

Fred's Pass Rural Show
Freds Pass Reserve


Saturday 17th and Sunday 18th May 2014



Darwin 4WD Camping Expo
Darwin Showgrounds
10 - 11 May, 2014

The Italian Festival Darwin
Every Second year
May 2015 TBC
BASSINTHEGRASS
Darwin Ampitheatre
Saturday 24th May 2014
Tracy Village Family Fun Day
28 Tambling Terrace
25th May 2014
Never Never Festival
Mataranka
The 2014 Never Never Festival has been cancelled.

Fundraiser for Nightcliff Primary School.
Deckchair Cinema, Jervois Road, Darwin City

Pre-purchase tickets at www.deckchaircinema.com.au
May, 2014

The Darwin Eisteddfod
Darwin Entertainment Centre
May 2014
The Darwin Harmony Soiree
Darwin Waterfront
31 May 2014
Tropical Gardens Spectacular
31 May - 1 June 2014
Darwin Botanic gardens

June

Merrepen Arts Festival
Daly River
30 & 31 May, 1 June 2014
The Top Half Folk Festival
Mary River Park
Arnhem Highway NT
6-9th June
Barunga Festival
Barunga is located 70kms south of Katherine on the Central Arnhem Highway
6-9 June 2014

Adelaide River Show,
Adelaide River
6-8 June 2014

Greek Glenti
Bicentennial Park
The Esplanade
7 - 8 June 2014
World Refugee Day
Festivaland Football Cup
Darwin Football Stadium, Abala Road Marrara
1.30-6.30pm Saturday 14th June
Katherine Fringe Festival
Various Venues
17 - 19 Jun 2014
Katherine Regional Arts
NT Orchid Spectacular
Foskey Pavillion
Darwin Showgrounds
21-22 June

India@Mindil
Indian Cultural Festival
Mindil Beach
Saturday 21 June 2014

Pine Creek Goldrush
Goldpanning Championships
Art Exhibition Friday
Goldpanning & Heritage Ball Saturday
27 - 29 Jun 2014

Borroloola Gulf Show
Borroloola Sports Grounds
Friday 27 June 2014

Professional Bull Riders (PBR) Touring Pro Series
Robbie Robbins Reserve
Berrimah
28 June 2014

Arnhemland Bird Week
Maningrida
June - July 2014


July

Territory Day Fireworks
Beaches around Darwin
1 July 2014
Alice Springs Show Day
Friday 4 July 2014

Darwin City Muster
Gardens Ampitheatre, Darwin
Held every 2 years - July 2014
Nesian Pride 2014
Darwin Entertainment Centre
July 2014

Tennant Creek Show
Tennant Creek Showgrounds
Friday 11 July 2014

Beer Can Regatta
Mindil Beach
Sunday 6 July 2014
10am to about 5pm
Dragonfly Craft Fair
July 2014.
Museum grounds, Bullocky Point
Katherine & District Show
Katherine Showgrounds
Friday 18 July 2014

Darwin Rollergirls' Royal Roller Show
Marrara Indoor Stadium.
10 Abala Road, Marrara. NT
July 2014
Royal Darwin Agricultural Show
Darwin Showgrounds
Friday 25 July 2014
2014 Portrait of a Senior Territorian Art Award and Exhibition
Parliament House
July to August 2014

August

Picnic Day Moday 4 August
Darwin Turf Club Gala Ball
Little Mindil Lawns at SKYCITY.
Saturday 2 August 2014
LingaLonga Festival
Batchelor
Friday the 1st and Saturday 2nd August 2014.
Garma Festival
Gulkula
Arnhemland, NT
August 2014
Katherine Festival
Katherine
09 - 23 Aug 2014
Darwin Festival
Darwin
7-24 August 2014
Telstra National Aboriginal and Torres Strait Islander Art Award
Museum and Art Gallery of the Northern Territory
19 Conacher Street
August to November 2014.
Darwin Championship Rodeo
Robbie Robins Reserve
Stuart Highway, Berrimah
August 2014
Charles Darwin University Open Day
24 August 10am-4pm
Entry is free.
Ellengowan Drive
August
National Indigenous Music Awards
August 2014
Gardens Ampitheatre
Darwin
Barrio Fiesta
Filipino Community Centre
Batten Road
Marrara
August 2014


September

Darwin Boat & Leisure Show
Darwin Convention Centre
September 2014
Palmerston Festival
September 2014
Palmerston
Nightcliff Orchid Society Annual Spring Show
Wesleyan Church
George Brown Botanical Gardens
Gardens Rd
September


October

NT Children's Week
October 2014

Darwin Fridge Festival
Darwin Community Arts
Sat 25 October.
Darwin Waterfront
Fist Full of Films
A Darwin Community Arts project
Entries close 5pm Wednesday 15th October 2014
Film Festival @ Deckchair Cinema
14-15 November 2014

Darwin Open Garden Scheme
Enjoy the best NT gardens
2014 gardens here...

November

Fist Full of Films
Film Festival @ Deckchair Cinema
Saturday 15 November Galah Awards Finalists



Our Journey from Darwin Community Arts on Vimeo.




Saltwater Craft Fair
Darwin Waterfront
Sunday 23 November
10am to 2pm
Tactile Arts

December

Christmas Festivals 2014

Christmas Craft Fair
November 2014
Museum grounds, Bullocky Point
Lord Mayor's Christmas Tree Lighting
Raintree Park, Darwin Mall
November 2014
City of Darwin Christmas Family Fun Day
Darwin Mall
November 2014
Carols By Candlelight
Darwin Amphitheatre,
George Brown Botanical Gardens.
Gates open at 4.30pm for a 6.30pm start.
Fireworks from 8.30 to close at 9.00pm
December 2014
New Years Eve on the Wharf
31 December 2014
Sports & Racing Darwin 2014 Calendar
Northern Territory Sports Awards
March 2014
Darwin Motorsports at Hidden Valley
Heineken Hottest 7s Rugby
Austar Rugby Park
Marrara
25th - 26th January 2014
www.hottest7s.com
info@ntrugby.com.au
Tiwi Football Grand Final
Bathurst Island
March 2014 (TBC)
Rural Athletics Club
Freds Pass Oval
Season start
March, PH 0408 837680
ruralaths2009@gmail.com
Australian Superbike & Supercross Championships
Hidden Valley Motor Sports Complex
Hidden Valley Rd, Berrimah September 2014
Precision Motorcycles KAMFARI
3 May 2014
Various locations around Darwin
Tel: 0408 894127

Pine Creek Cup
Pine Creek Turf Club
3 May 2014 (TBC)

Darwin Drag Racing
Hidden Valley Motor sports Complex
April - September 2014

Adelaide River Cup
Dorat Rd
Adelaide River
31 May 2014
2014 Australian Sprintcar Championships
Northline Speedway
Hidden Valley Motor Sports Complex
May to October Calendar TBA

V8 Supercars
Hidden Valley Motor Sports Complex
20-22 June 2014
2014 NT Sprint Kart Championships
Hidden Valley Go Kart Track
14-17 August 2014
2014 Territory Quad Assoc NT Titles
Hidden Valley
14-17 August 2014
Dinah Beach Darwin to Ambon Yacht Race
Stokes Hill Wharf
August 2014
Territory REL Week
Batchelor Airstrip
July 2014 (Bi-annual event)
DMCC Pony Express
To be Announced 2014
Tel: 0408 894127
Darwin Cup Carnival
Fannie Bay Racecourse Darwin
July/August 2014 (TBC)

The Boulderdash
September 2014
Tel: 0408 894127
Australian Superbike & Supercross Championships
Hidden Valley Motor Sports Complex
Hidden Valley Rd, Berrimah
September 2014
The TOUR (trailride)
September 2014
Tel: 0408 894127
Fundraising Events